HostGator Review 2021: Affordable and Easy-to-Use Web Hosting Service for Beginners
HostGator provides an easy-to-use web hosting platform for businesses –the best web hosting provider for starters and professionals.
Summary Section
HostGator is among the popular web hosting companies, hosting over 8 million registered domains. It might be one of the oldest hosting services today, but it doesn't mean it can't cater to your website needs. Posting an average uptime of 99.9% over the last years, plus around-the-clock customer support and tightly-packed features, it's the ideal hosting service for every website owner.
Overview
With over 8 million domains hosted on the Internet, there's no doubt that HostGator already established brand recognition and reliability in the online world.
Brent Oxley founded the HostGator web hosting company in 2002. It currently has over 500 employees from the United States, Texas, and Canada, providing millions of customers with affordable pricing plans with incredible hosting features.
If you're new to web hosting, HostGator is an ideal choice to start with. Besides, you can get discounts on your first purchase. But let us tell you one thing: you'll get bigger deals if you sign up on longer billing cycles.
Worrying about getting stuck in the platform? Fret not. HostGator refunds your money as long as you're within their 45-day time frame of canceling the plan. We've also tested their features and their customer service. And the results? They're remarkable!
Below sums up our detailed experience and web hosting review for HostGator as a web hosting provider. Read on, and we're sure you'll likely end up purchasing one of HostGator's plans at the end of our hosting provider review.
Features
1. Free Domain Registration and Website Transfer
If you're planning to have a website, you should consider these things: your domain name, web hosting, and site files. You could think of a domain name as your home's street address, the web hosting as your land's space, and website files as your home's appliances or items. HostGator provides leading hosting services at an affordable price, depending on your website's needs.
HostGator blesses your website with one free domain name registration, applicable for Cloud, Shared, and Optimized WordPress hosting plans. You can get HostGator's free domain registration once you purchase a billing cycle that runs at least 12 months. Just choose the name for your website, select one from .com, .org, or .net, pay for your plan, and that's it! You'll have your domain name free for the first year. But take note, free domain registration only applies to new packages.
Content migration would be a breeze with HostGator's shared hosting plans. This web hosting service transfers your site files, scripts, and databases for new accounts within 30 days of signup. For shared hosting transfers, HostGator moves content and databases from one website or your control panel over another host.
2. Unmetered Bandwidth and Disk Space
One of the best features of the HostGator is its unmetered bandwidth and disk space. HostGator offers excellent disk space for customers, and it doesn't charge you for bandwidth use. However, you need to comply with HostGator's Terms of Service, requiring all customers to keep a reasonable usage of their system resources for a certain period. If you're using more than 25% of their system for a couple of minutes, you're violating HostGator's policy. Don't worry about getting penalties, as the web hosting services issues an email asking for reduced bandwidth usage.
3. Free SSL Certificate
Aside from HostGator's unmetered bandwidth and disk space, you'll enjoy its great security features. An SSL certificate is an excellent way to keep your business and website secured and protected from data attacks. It encrypts all information coming and leaving your website, and it plays important roles in flagging your website "secured." HostGator offers free SSL certificates for all hosting plan accounts. If you're planning to increase your brand awareness online, HostGator's plan would be an excellent choice for hosting your website.
You can also upgrade your SSL certificate to fully enjoy its benefits. HostGator offers three SSL plans: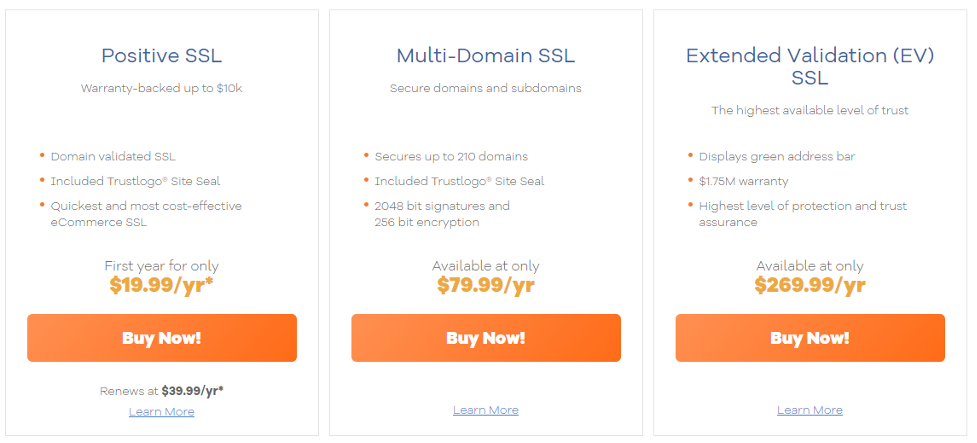 Positive SSL: This is a cost-effective SSL plan for e-Commerce websites
Multi-Domain SSL: Secures up to 210 domains and provides a 2048-bit signature and 256-bit encryption. It also contains Trustlogo Site Seal
Extended Validation SSL: Displays a green address bar. Your website acquires the highest level of trust and protection in this type of SSL
4. Live Malware Protection
HostGator is a hosting company in partnership with SiteLock. This gives your website the full protection it needs against security threats. What we like the most about HostGator's SiteLock Complimentary Malware Scanner is that it checks five pages of your website daily. If it finds malicious malware or threats, it will alert you through email immediately. However, you're responsible for removing the threats found on your website. You don't have to pay for additional costs since HostGator offers its Live Malware Protection for free to all domains hosted in its plans. If you're using Shared Hosting, Hatchling, or Business accounts, then you're covered. As soon as you purchase one of those plans, HostGator automatically complements the SiteLock malware scanner on your website. And if you're working on WordPress, you can ensure your website's security and protection through HostGator's malware protection service.
HostGator offers premium malware scanner features for your site's security if you wish to upgrade your malware scanner. It includes:
SMART (Secure Malware Alert and Removal Tool) that removes detected malware on your site automatically;
Vulnerability Scanning, which notifies you on the common website susceptibilities;
Content Delivery Network that boosts your website's performance and speed; and
Web Application Firewall that detects and blocks any suspicious bots entering your site
Bigger companies opt for HostGator's shared hosting's boosted SiteLock plans for its air-tight capabilities. It covers three plans for securing your website's data: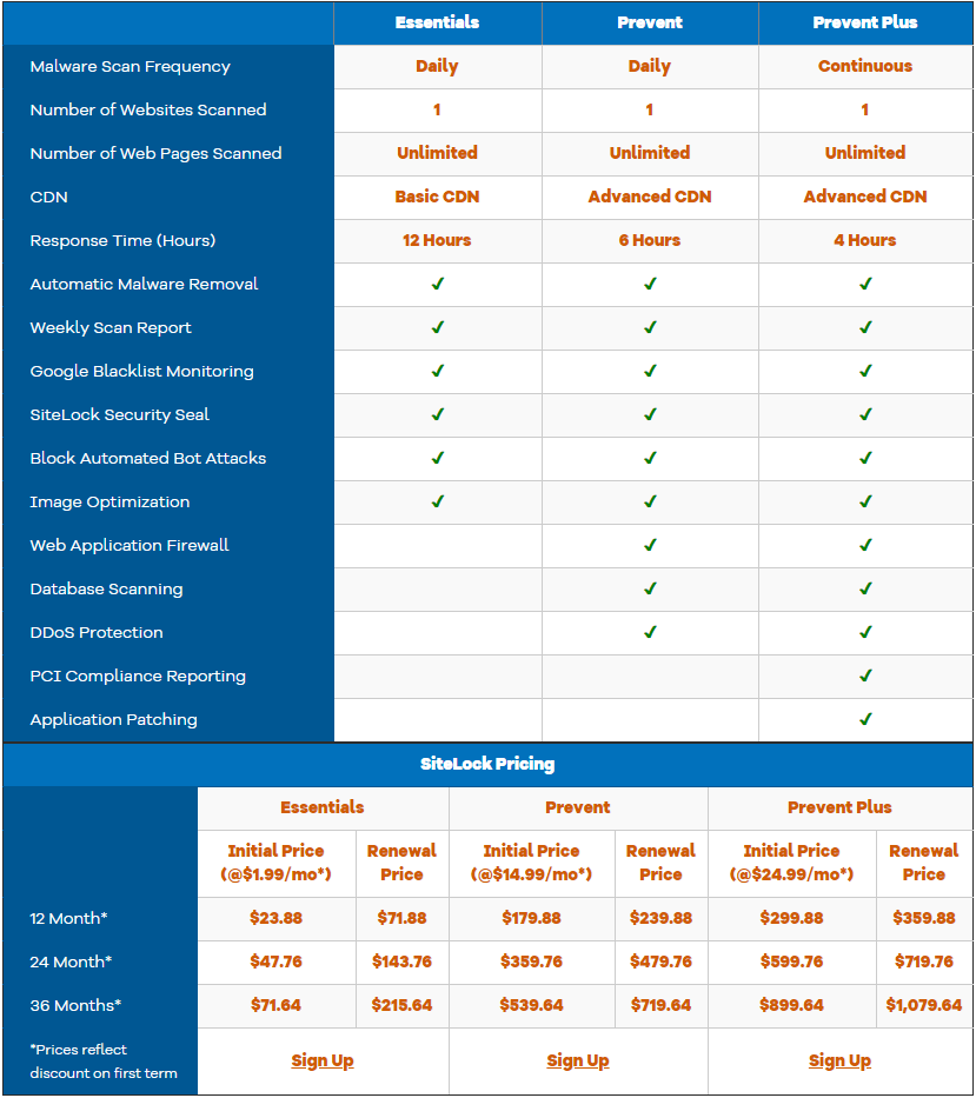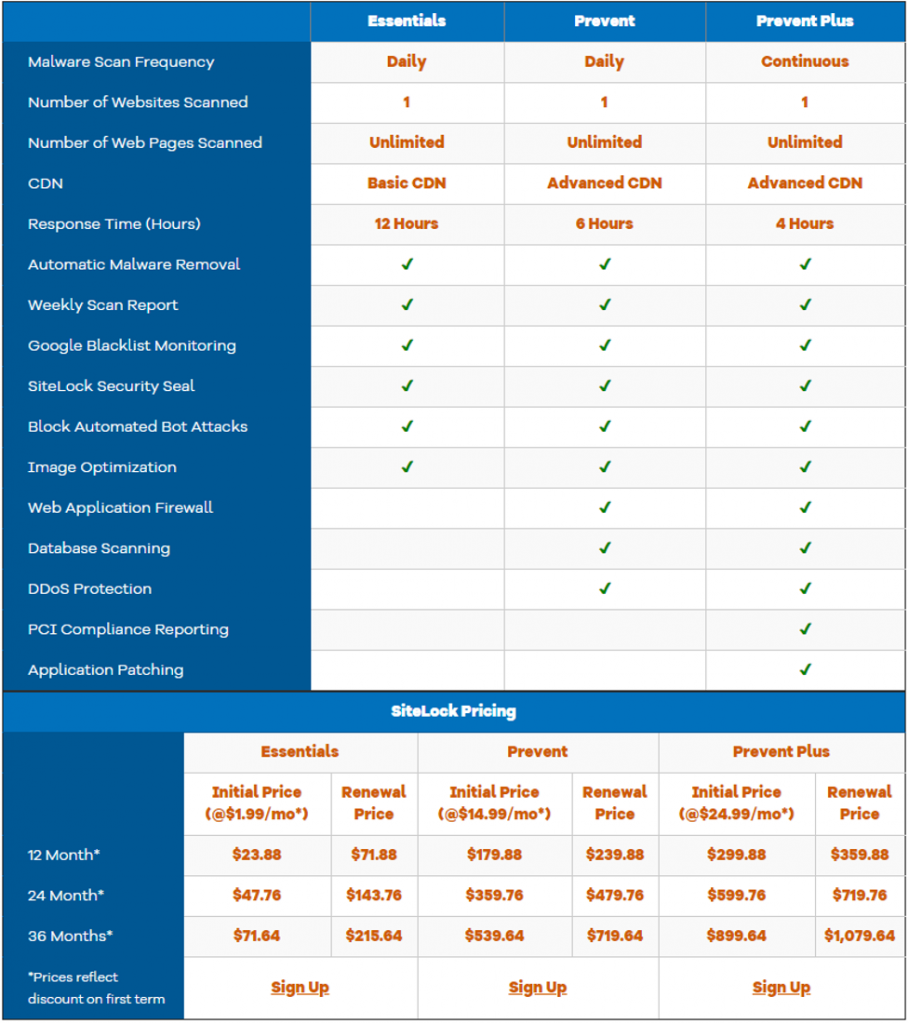 Essentials: Daily malware scan, Unlimited web page scan, Malware removal, Basic CDN, Weekly scam report, Block bot traffics, 12-hour response time
Prevent: All Essential features, 6-hour response time, Database scanning
Prevent Plus: All Prevent features, 4-hour response time, PCI compliance, Application patching
5. Control Panel (cPanel) and One-Click Installation
If you're new to a web hosting service, HostGator's is the right choice. Amateurs, and even professional web developers, love HostGator's intuitive and easy-to-use hosting management platform where you see and access all your plan's features. Suppose you find yourself stuck or just need additional help. You can ask the web hosting service's customer service, and they'll provide assistance with your control panel. Regardless of your shared hosting plan, HostGator gives you access to its latest web hosting cPanel. You can get additional features, such as website statistic tools, password-protected directories, and expert management tools.
Can you backup files with HostGator's control panel? Yes. All HostGator's shared hosting control panel manages your website's content, especially when you need to replace or restore them. HostGator reviews all your files, emails, databases, and contents and keeps them before performing the backup. Once completed, it notifies you through email. But be reminded that the steps for backing your content would depend on your shared hosting plan.
HostGator shared hosting plans make it easier to integrate applications into your website. This is an ideal web hosting service for eCommerce websites, blog-affiliated platforms, and forum-initiated sites.
Performance
1. HostGator 99.9% Uptime
Before choosing your web hosting service, you need to consider its uptime performance. Web hosting platforms that don't offer excellent uptime would only trouble your clients, especially when you're handling an e-Commerce website. For example, low uptime means your site might experience continuous maintenance. This could even result in a downtime wherein customers cannot access your products or services.
We used Pingdom for our test site and reviewed HostGator's uptime performance. This tool provides an easy way to determine a site's reachability, availability, and speed. Moreover, HostGator's test resulted in an incredible average of 99.9% uptime performance, far better than Namecheap and Bluehost hosting services. HostGator's uptime is remarkably stable; you don't have to worry about your site's accessibility once your site goes live.
| | |
| --- | --- |
| Average Uptime for 2020 | Average Uptime for 2019 |
| January 2020: 99.97%   |   December: 99.89%November: 100%October: 100%September: 100%August: 99.99%July: 100%   |
2. Uptime Guarantee for Users
It's somewhat impossible for web hosting services to promote a 100% uptime guarantee to users. Yet, HostGator is the best web hosting service known for its 99.9% uptime performance, ensuring your website doesn't experience more than an hour of downtime every year. E-Commerce and marketing platforms definitely give HostGator web hosting plans a go because of its tightly-packed security and performance features.
In case your site experiences an uptime less than the HostGator's guaranteed performance, they'll issue a month of credit into your package as compensation. However, it maintains sole discretion and justifies the account according to the case scenario. You should be aware that any planned maintenance doesn't count towards the web hosting's downtime. If your site isn't working, it doesn't necessarily mean it has downtime. HostGator performs the best procedures in making your site available and accessible to Internet users, so there's nothing to worry about. Further, make sure that your content or files are working correctly.
Help and Support
1. 45-Day Money-Back Guarantee
One of the best parts of HostGator's pricing plans is that it offers a refund and money-back guarantee. However, there are restrictions before HostGator refunds your money:
You can get a refund for any purchased plan from HostGator's web hosting service, such as shared, reseller, or VPS.
If you're not satisfied with HostGator's performance, cancel your account within 45 days after your purchase.
HostGator's refund doesn't include administrative fees, customized applications, or even domain name registration.
A standard fee of $17.99 for the domain name will be deducted from your refund. This works on plans that include a free domain name cancelable for one year.
2. Customer Support Channels
Another great thing about HostGator is its responsive customer service support available 24/7/365. It offers telephone and online live chat support –the latter is more convenient for urgent issues.
We tested both methods and asked how to transfer a website to HostGator. We dialed HostGator's telephone number and talked to a tech support. We received an email that provides a detailed instruction the same day. We are satisfied with how their customer service delivered a timely approach to the site transfer.
HostGator's tech support offers live chat support on their website. They have an average waiting time of 2 minutes –not bad at all! We asked different questions and jumped from one topic to another. We're surprised at how fast Hostgator's customer service representative is in answering our queries. HostGator's customer service support seems well-trained, plus, they're friendly!
Aside from email, call, and live chat support, HostGator created a Knowledge Base to help you and other customers learn everything you need to know about the company's product and services. You'd be impressed with how stable and organized the HostGator's Knowledge Base is. From advanced troubleshooting to the database, design tools, domains, and policies, they got you covered.
Overall, HostGator's competent customer service makes it better than its competitors. Added with its friendly tech support system that provides you additional instructions. Good experience at all.
3. HostGator Pricing Plans
HostGator provides a different web hosting service that best fits your site's needs. Here is the summary of HostGator's pricing plans along with their renewal price, so there are no surprises at your end:
HostGator offers discounted pricing plans for new users –a great way to start your web service journey. Take note that discounts last for your first term. Suppose you signed up for a six-month plan, then you'll get six months at a discounted price. Once your first term is over, HostGator releases a renewal rate for your plan. This isn't discounted since the web hosting provider gives the regular price. With HostGator's affordable pricing plans and features, you must consider signing up for a longer billing cycle to get a great discounted price the web hosting has to offer.
Want to know which plan fits your needs? Let's take a closer look at these HostGator's hosting plans.
Shared Web Hosting: This is the best plan if you're a starter in hosting your website's resources. In this plan, you share resources with other websites that use that same server—good choice for single-page blogs or basic sites.
Cloud Hosting: This is similar to HostGator's shared web hosting platform but uses multiple servers. If your website gets frequent traffic spikes, we recommend getting this plan.
WordPress Hosting: HostGator makes it easier for WordPress site developers to optimize their site's performance and boost security against cyberattacks.
VPS (Virtual Private Server) Hosting: Big companies opt to use a VPS Hosting plan to secure their resources on a cloud hosting platform.
Dedicated Server Hosting: If you need a dedicated server for your website and resources alone, you can get this plan. You can customize the processes and security features. However, you're responsible for all site activities, including maintenance.
4. HostGator Shared Web Hosting Plans
We highly suggest HostGator's shared hosting web service for new websites or amateurs. If you're a starter in a hosting provider, a shared hosting plan would be ideal to start boosting your site's reach and traffic –both important in growing your business. Don't worry about being "locked" on that plan. HostGator allows clients to upgrade their plans as their site grows.
Currently, HostGator offers three pricing tiers for its web hosting plan. These plans include a year of free domain registration, unmetered bandwidth, SSL certificates, one-click WordPress installs, and free site transfers. You'll also enjoy HostGator's website builder and a free email when you sign up for one of their plans. Regardless of the tier chosen, HostGator provides a 45-day money-back guarantee.
Moreover, each plan has a dedicated number of websites you can host. Here are the other details: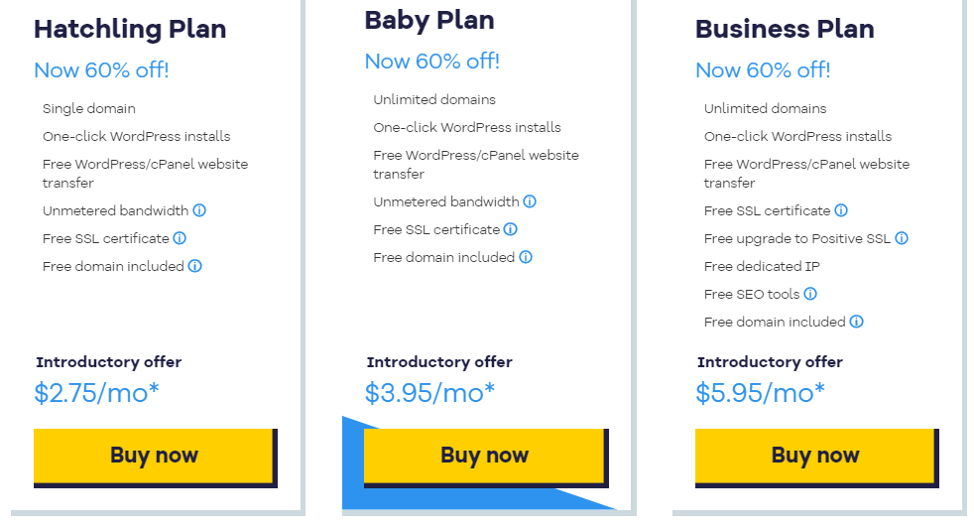 Hatchling Plan: You can only host one site in this plan along with the standard features.
Baby Plan: This plan gets you an unlimited number of hosted websites, plus Hatchling's attributes.
Business Plan: Best plan for small businesses. It comes with an unlimited number of sites, plus a free dedicated IP and complimentary SSL upgrade.
HostGator Review: At a Glance
| | |
| --- | --- |
| Overall Rating | 4.6 stars out of 5 |
| Pricing Plans | Starting at $2.75 per month (Renewal rate starts at $6.95 per month) |
| Hosting Plans | Shared, Cloud Hosting, WordPress, Dedicated Server, and VPS Hosting |
| Help and Support | Telephone, email, live chat support, and knowledge base |
| Features | Unmetered bandwidth, Unlimited disk space, free SSL certificate, live malware protection, control panel, and one-click installation |
| Uptime Performance | 99.9% uptime guarantee |
| Speed Performance | 1,191 ms |
| Applications Supported | Over 75 applications |
| Site Transfer | Single free website transfer |
| Money-Back Guarantee | Yes |
The Verdict
HostGator's robust selection of features make it an ideal web hosting provider for businesses, especially new entrants in the market. If you're after inexpensive pricing plans but worth the cost, we recommend HostGator's shared web hosting plan to start your web journey.
Do We Recommend HostGator?
Definitely a yes! Our HostGator review concludes that it's the one of the best hosting providers for website owners, especially if you're a starter on web hosting. Besides, this provider is among the popular web hosting services globally. It's a smart choice for any website owners considering its outstanding uptime performance, speed, security, and attributes.
Pros of Using HostGator
HostGator offers a competitive uptime performance guarantee of 99.9%, making it a reliable web hosting platform in the market
Provides a generous money-back guarantee within 45 days of the purchased plan. Note that some web hosting companies don't offer refunds once you exceed the 30-day post-purchase
Gives flexible billing periods. You can select either a monthly or yearly billing cycle. The longer the term, the higher the discount you'll get
Encompasses knowledgeable, well-trained, and friendly customer representatives
HostGator has an easy-to-use platform and intuitive cPanel interface
Offers free domain registration and website migration. No hidden costs
Provides a free SSL certificate to any pricing tier selected, increasing your site's security and performance
Has unlimited bandwidth and disk capacity. It doesn't restrict the number of traffics to your website
Cons of Using HostGator
You may need to review your pricing plan and uncheck services you don't need because HostGator preselects them during the signup process
Doesn't offer a Dedicated Server hosting plan unless you opted for the Shared Web Hosting Business Plan
Too much and unnecessary upsell options
Since shared web hosting caters to beginners, advanced features are limited
Slow page speed, averaging 1,191 ms
Doesn't include Windows in its VPS hosting
A free domain is only available after signing up for a year-long plan. HostGator doesn't give free domain for monthly plans
FAQs
Is HostGator reliable?
Our review sums up that HostGator is a reliable and ideal source for shared web hosting solutions. Its feature-packed pricing plans cover all your website's needs. Considering HostGator's uptime performance of 99.9% in the last months, you'll never get to experience downtime periods. Plus, it's staffed with knowledgeable tech support, content that caters to user base experience, and award-winning services.
Why is HostGator the best?
HostGator's the best and competitive web hosting service in the market today. It guarantees a stable uptime performance combined with excellent customer support that caters to your needs. You'll also get big discounts from HostGator that provides an edge against its competitors.
Is HostGator better than GoDaddy?
HostGator is better than GoDaddy because the latter lacks features that HostGator offers and delivers to customers. HostGator is more expensive than GoDaddy. Based on our review, it provides reasonable pricing plans that cover all tools and attributes to boost your site's awareness, traffic, security, and traffic.
Is HostGator better than Bluehost?
It depends on your website's needs. Beginners would appreciate HostGator for its water-tight features that are equally impressive with other competitors. It comes with award-winning customer service plus uptime performance. But if you're planning to use WordPress, Bluehost could cater to your website better. Despite their differences, both web hosting services provide support to users.