20+ Best Premium Photography WordPress Themes
Want a place to showcase your photography portfolio or perhaps you looking to grow your photographer business. Wordpress sites would be very wise choice, it is regarded as the one of the best platform for blogging and user friendly, even better there are huge numbers of available theme ready made for your need. The only challenge would be picking one to "wow" your customer or visitor with showcasing your amazing photos and suited for your personal/brand identity. We handpicked following themes that suited for showing photos, some with mansory grids, animation sliders that is suited for agency or photographer enthusiast.
Kalium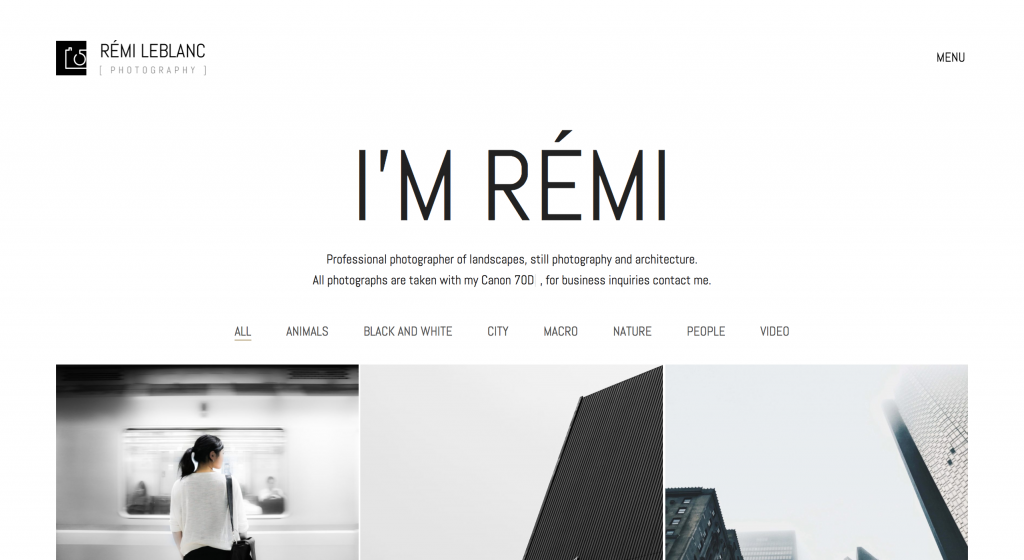 It is a colorful, creative, tech-savvy and attractive WordPress theme for photography. Several tools are available with it in order to present visual content in an expressive way. This theme is multilingual and translated in 15 plus languages. Kalium has been tested on various devices, and it works best with touch sensors. Its other features include high-quality images, text and fonts. Solid coding is used in this theme in order to provide high-speed performance. It can also be customized as per your own liking. If you are a photographer, photography aficionado or photo journalist, then Kalium is the perfect WordPress theme for you.
Uncode
It is another dynamic, graphically polished, stunning, impressive, engaging and visually vast theme. Uncode is equipped with several exciting features such as search engine optimized, functional versatile and highly responsive. It is user-friendly and trustworthy. You can easily incorporate and operate this theme even if you are not aware with web development. Some plugins are also built-in including Enhanced Visual Composer, Woocommerce, Layer and Revolution Sliders and WPML. It is an ideal theme for displaying high-quality images. No matter whether you are an amateur photographer, freelancer photographer, photojournalist or expert photographer, uncode will help you get fascinating outcomes.
Travis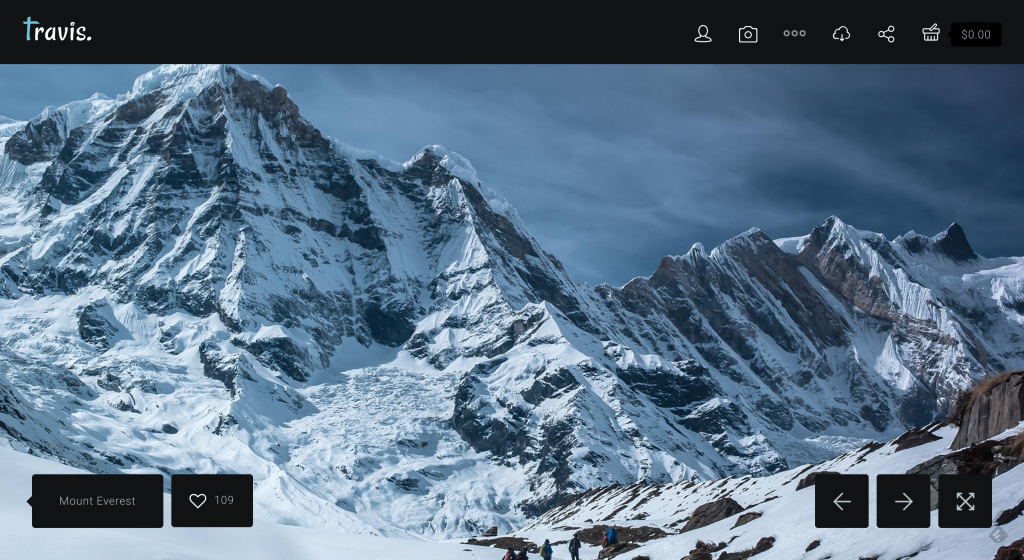 It is one of the most famous photography themes for WordPress that allows you to make a proficient portfolio blog. Now you can easily handle your website and sell photographs by using its WooCommerce plugin. Different types of galleries are incorporated in it such as Waterwheel, Grid and Fullscreen. Its in-built Live Page Builder will allow you to build a page in just five minutes with no coding. This theme is not only suitable for photographers but also for freelancers and artists. Exclusive JS and CSS files are also available with it. Now you can create your own photography albums and portfolios with Travis.
Massive Dynamic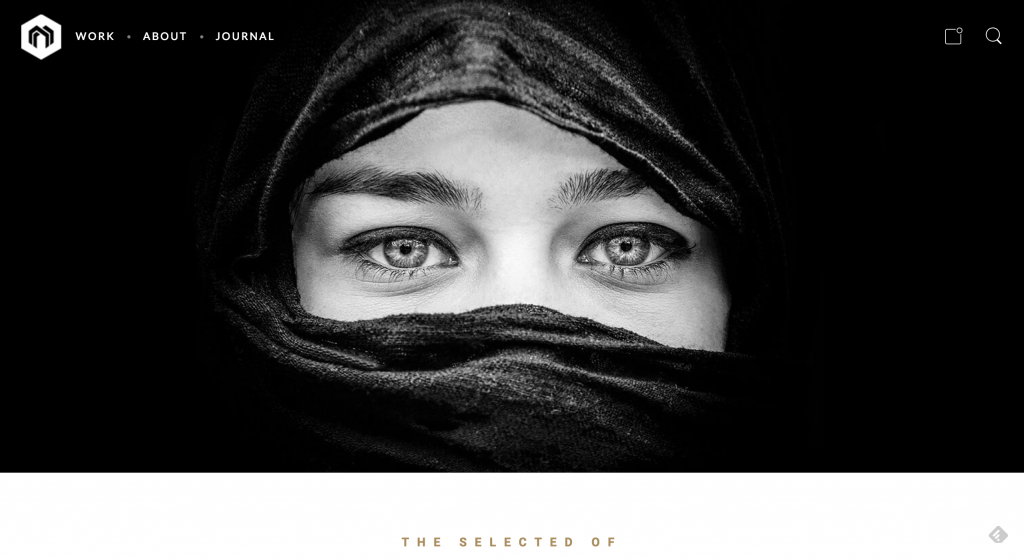 It features up-to-date web technology, attractive design and enjoyable UX. Massive Dynamic is highly responsive, innovative, image-centric and beautiful WP theme.  You do not need to worry about the website buildup and maintenance as this theme is equipped with Live Website Builder. Its unlimited layouts will allow you to build your site with 20 diverse layouts in just few clicks. You can also alter the size and position of logo, icons and navigations with a simple drag and drop feature. Live portfolio resizing is also possible with Massive Dynamic. 70 exclusive short codes are available with this theme.
Stellar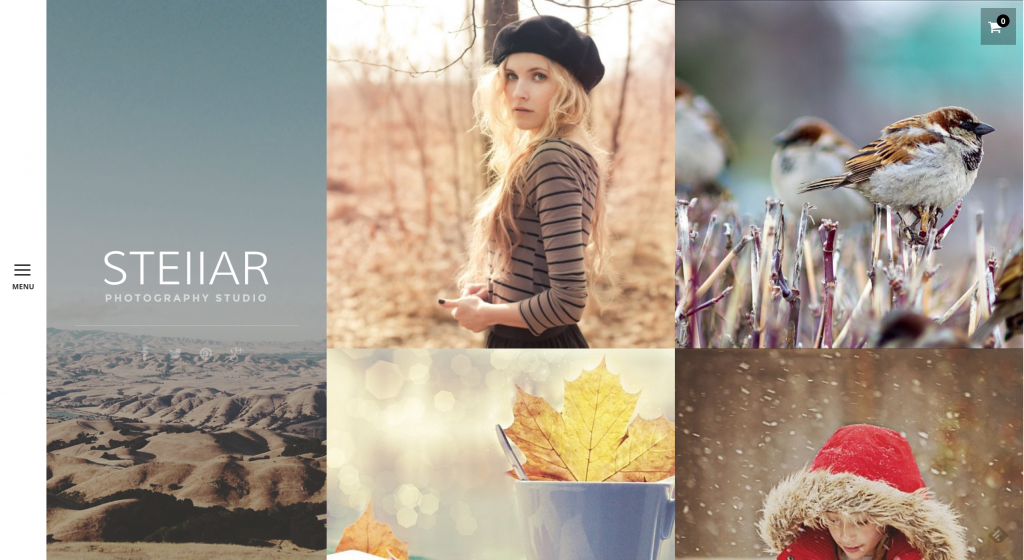 It is a premium WP theme that is best suited for photographers, design agencies, personal portfolios and freelancers. This theme is constantly updated unlike other WordPress themes. It is not only creative but also responsive. You can modify this theme according to your own choice as it is easy to customize. Are you a beginner to WordPress? Well! No need to worry as Stellar incorporates drag and drop page builder. It comes with 700 plus google fonts therefore; you have a lot of choice in font selection. Stellar has ultra-sharp high-quality graphics and images. It also supports multiple-languages with WPML plugin.
Moon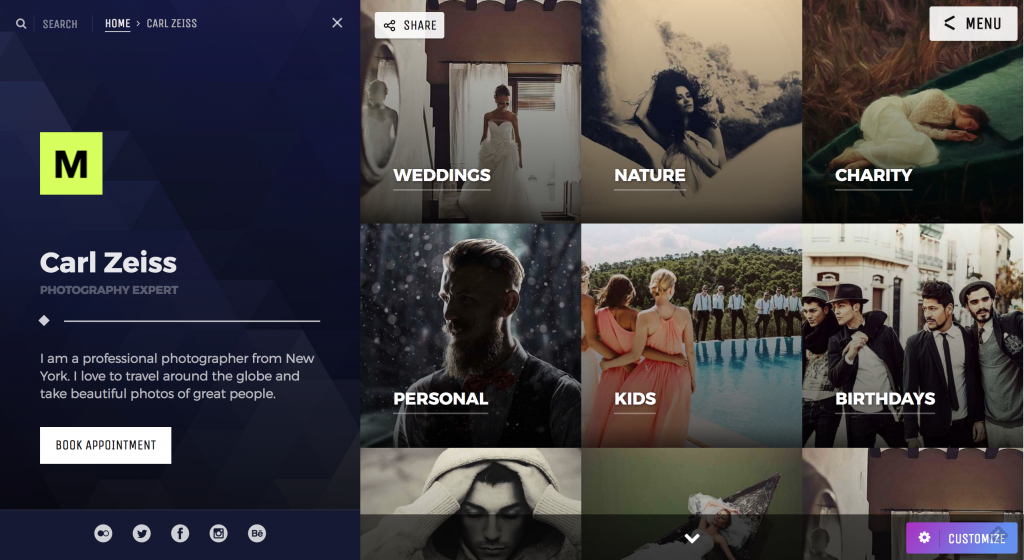 It is another responsive WP theme that helps in enhancing and improving your website. It features useful tools so that users can optimize their portfolios and blogs. It is quite simple to manage without using any coding. Now you can show your photos videos and audio files with Moon. It is capable of increasing your site's flexibility. This theme will permit you to upload unedited or edited photographs, handle page layout and write blog posts. Moon is a premium theme, but you will not regret buying it as it comes with best support system and free updates.
NOAH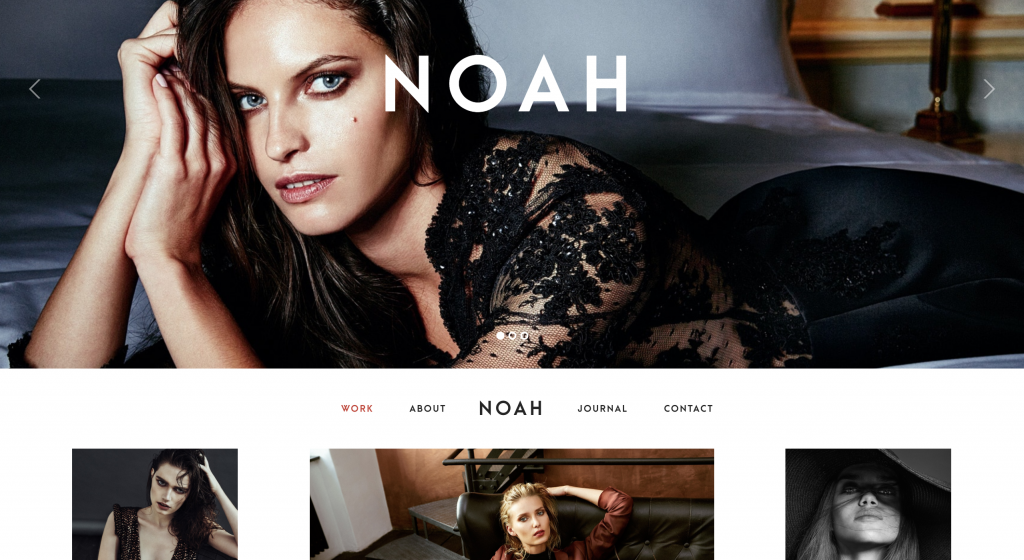 This WordPress theme is specially designed for all those people who love photography. The best thing about NOAH is that users can also add a brief intro about their photos. It has a charming design that will grab the attention of viewers. Now you can showcase both portrait and landscape photography, including texts and slideshows. Knowledge of coding is not required for customizing your website. Change layout sizes, fonts and colors as per your desire. NOAH also features speed and SEO optimization. If you want to express yourself through photographs, then this is the perfect theme for you.
TheGem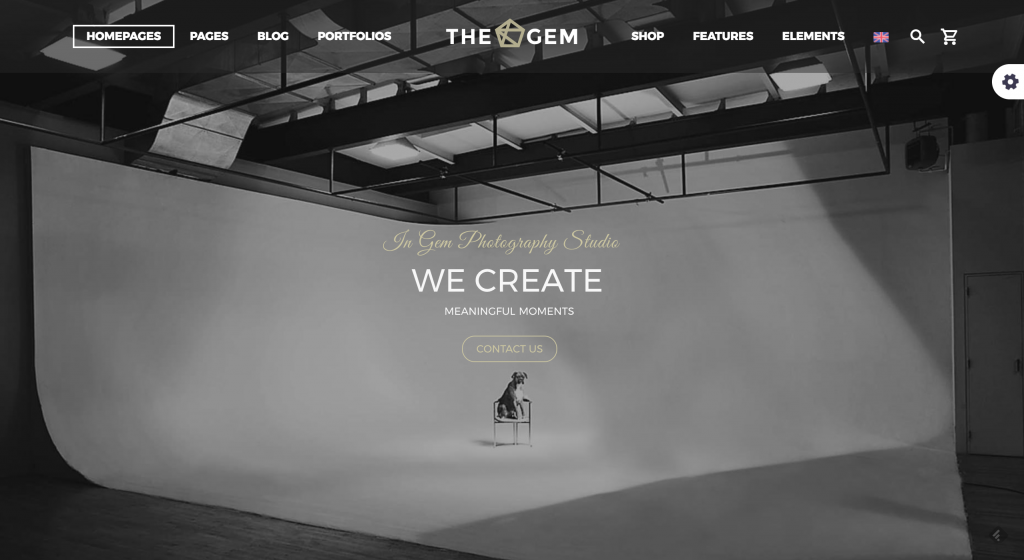 It is a universal WordPress theme for professional and creative individuals. It has custom-crafted layouts and unique styling for widgets, plugins, footers, headers and sidebars. If you desire to showcase your images in high resolution, then TheGem is the best choice. Select this theme for your WP website if you are a freelance photographer, skilled photographer, amateur photographer or own a photography studio. Make a striking impression on your potential customers by presenting your photos in an artistic and appealing way. TheGem also includes ecommerce integration that makes the selling of photos much easier. Search engine optimization is also supported.
Toranj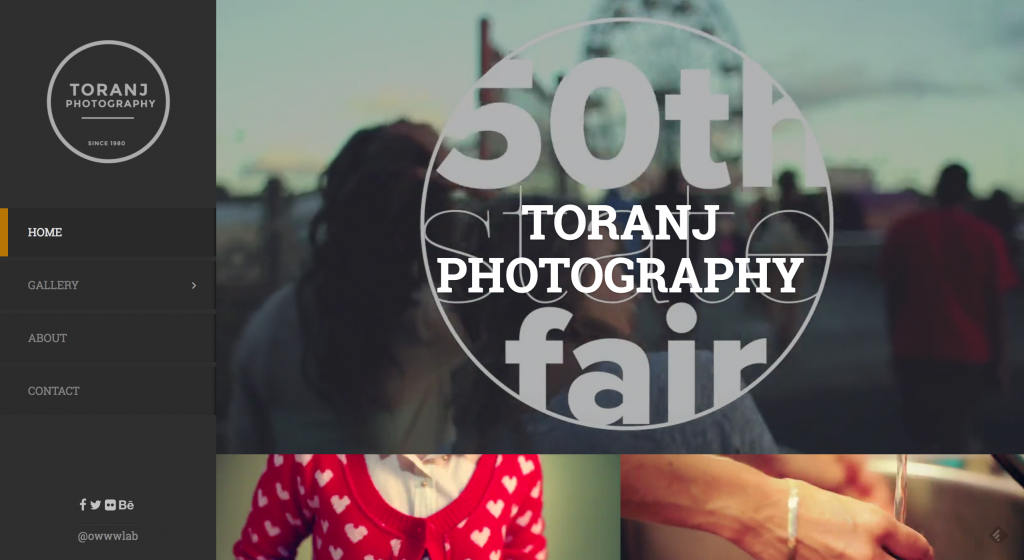 Publishing and managing the visual content is no more an issue with Toranj as it is a unique, responsive and multipurpose WP theme. Quickly build your website pages by using its drag and drop page builder feature. It is available with four diverse layouts that fulfil the needs of customer from agency journal to personal blog. A wide variety of gallery layouts is provided by Toranj such as horizontal, vertical, lightbox, video, in-page and full screen grid. It is completely suitable for ecommerce plugin. A Master Slider WP plugin is also incorporated in order to provide super-fast performance as well as drag & drop admin panel.
Diva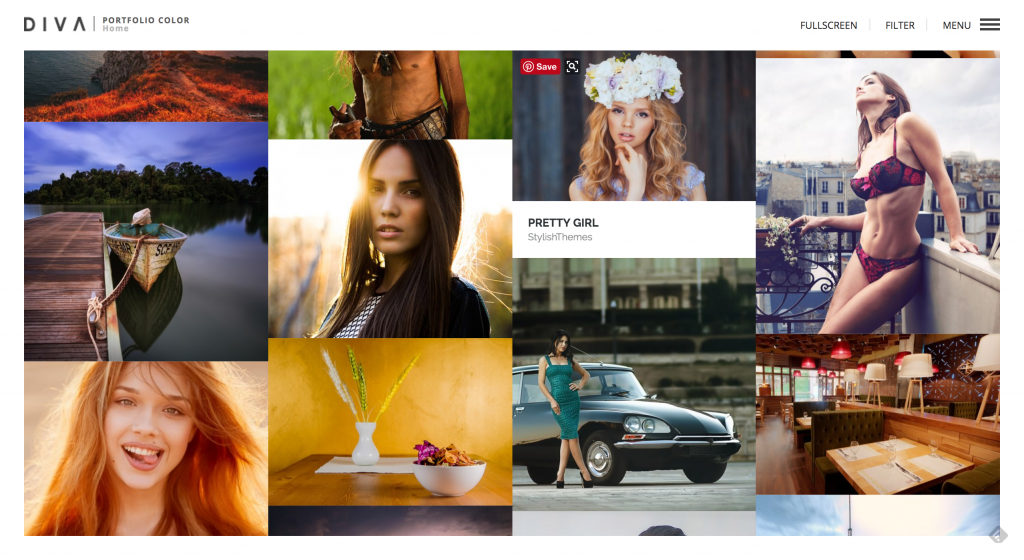 Diva is an amazing WordPress portfolio theme. The concept of the theme is based on a sarcastic fashion, i.e. it expresses the emotions of aggression, arrogant and moody. This derogatory theme represents you a climax piece of art in a very classy and elegant texture. The exclusive features of this theme will demonstrate your professional skills for the management of your website. This theme knocks over with breathtaking gallery that will leave everyone astonished. The theme works on the Redux framework and visual composer tools and makes your work easily done. It works perfectly on your mobile phones also.
Bild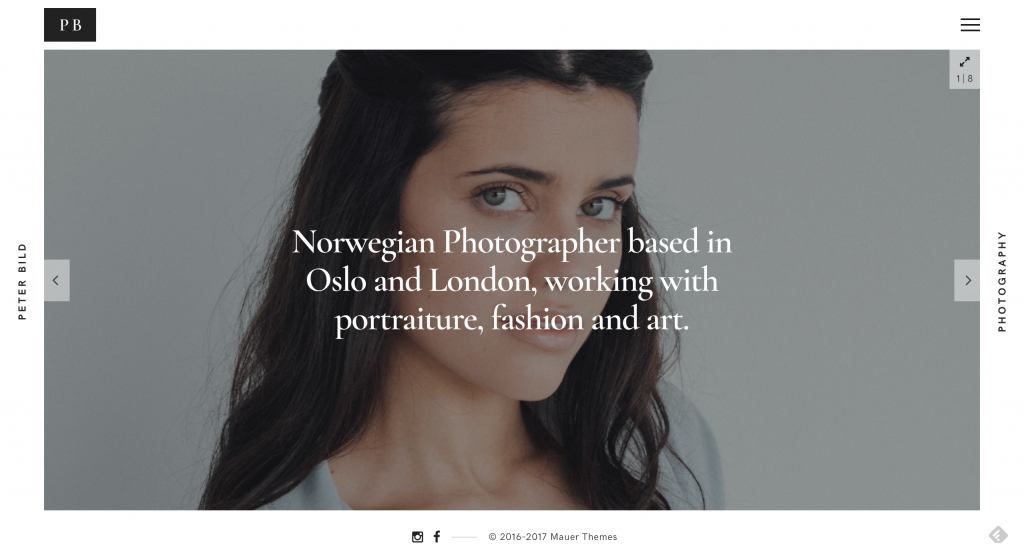 Bild is a minimalistic designed theme that focuses on your photographs. The delicate designs of this theme acclimatize your photographs along with a strong accent of typographs and works in a very smooth manner. It presents you four homepages and various layouts for your portraits, photos or snaps to be aligned either in portfolio or slider fashion. You can easily personalize your theme with unlimited options of six customizable color palates along with 800+ Google's fonts. This is the best theme for any photographer to show his talent of his clicks and can be shared on the social media.
Kameron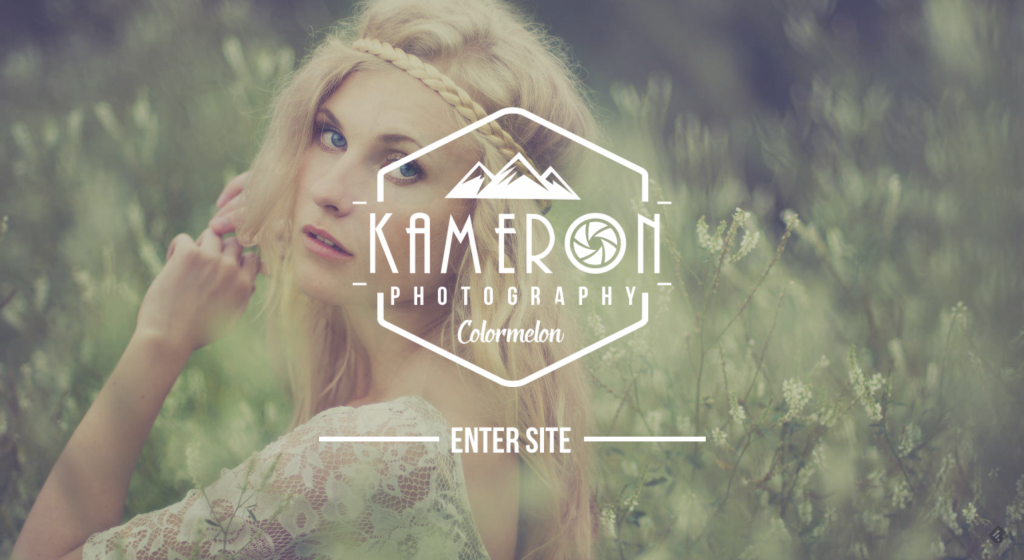 Looking for an over-whelming photography theme, so Kameron presents you the latest features for your website. It comes with a full screen gallery and unlimited horizontal portfolio layouts with background images, left-side menu bar with parallax background image, social share and much more. Adding up the personalized background image makes your theme more elegant and gives it a professional look. With its upgraded version, it offers a password encryption system to its customers along with an extra security. Not only this, Kameron gives you access to all the features after you buy it and are fully customizable. This theme gives you everything you need as a photographer.
Fluxus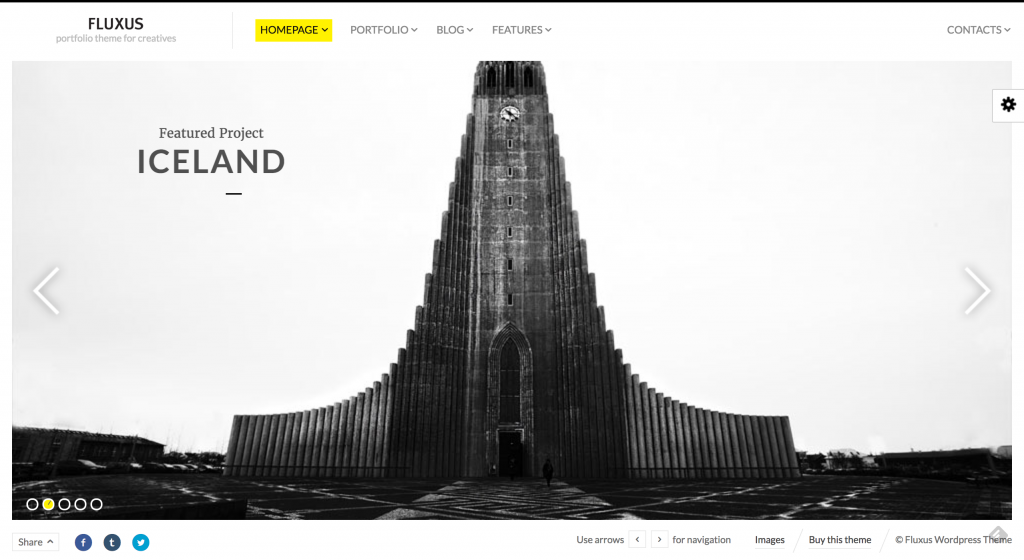 Fluxus is a magazine inspired layout that makes your work look fully satisfied in the 21st century traditional theme. This theme appeases its customers by its dazzling collection of 50 different themes for photography. It offers a dynamic clear view of the photograph by its horizontal layout feature and also presents a flexible grid portfolio layout that can be adjusted horizontally or vertically. It supports the video in portfolio or blog and the multiple languages using WPLM plugin. It works at its best on any device you use either mobile phone or on a PC.
Sirius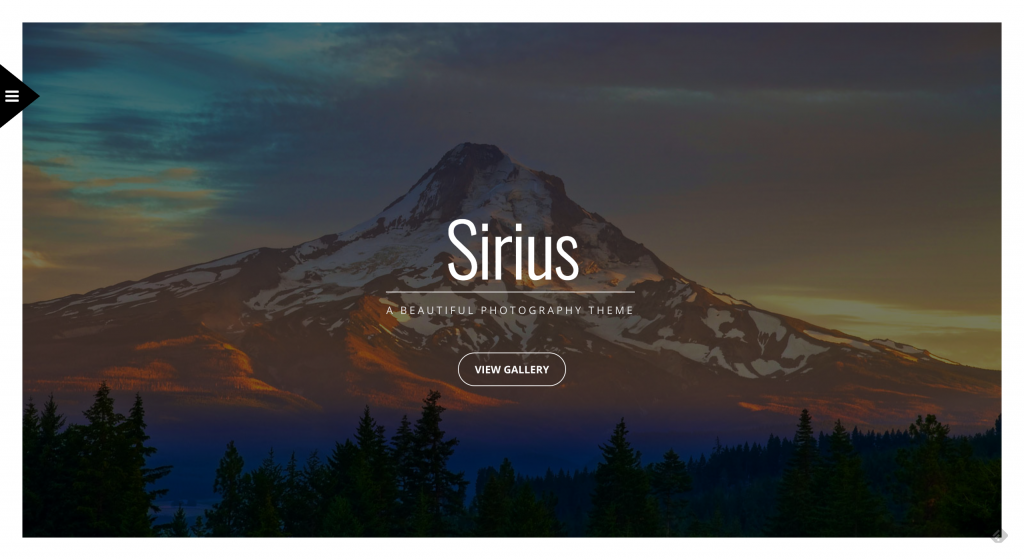 Forget about the compatibility issues and get ready to use the Sirius theme which is a modern minimalist theme. It is a full responsive theme with multiple latest features and perfectly runs on any device. Its high quality and decisive designs make it the most popular and reproductive theme for your photographs. It supports the post thumbnail along with dynamic image resizing, and the theme can be easily customized. You don't need to worry now whether your HTML is a beginner or a pro, this theme works at its best on the WordPress 3.x menu system.
Kubb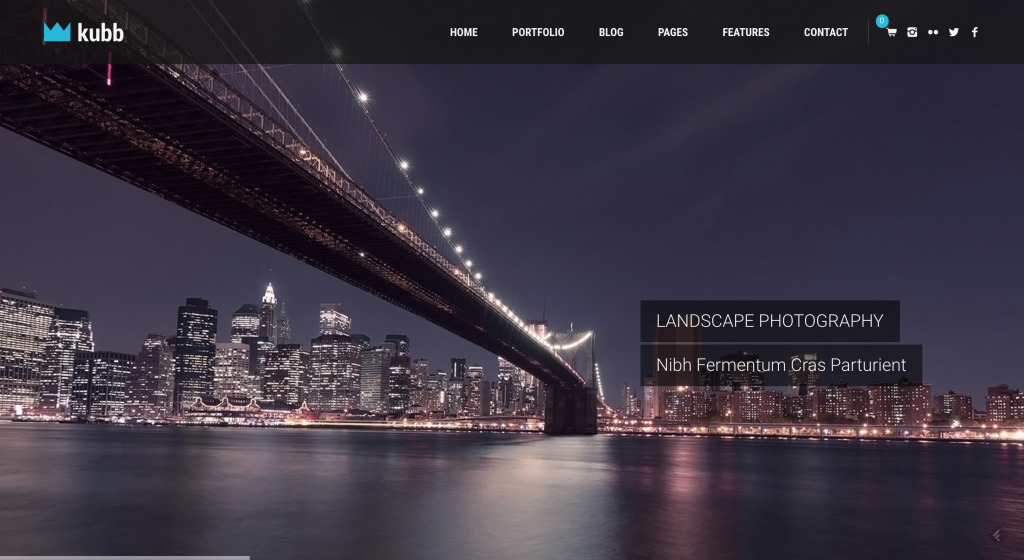 Kubb is the optimum HTML5 template theme for your photography or magazine. It comes with various portfolio options which are best for photographers, artists, digital studio or any kind of business owners. The retina ready icons and its high-quality graphics present you a fascinating skilled look to your website. The full responsive and the layout adaptation feature of the theme make it to work its best on any device screen by adjusting the different screen sizes. This flat design theme gives you four different blog layouts with eight various portfolio post layouts. Not only this, it presents nine different color schemes that can be personalized along with rich styling fonts.
Tography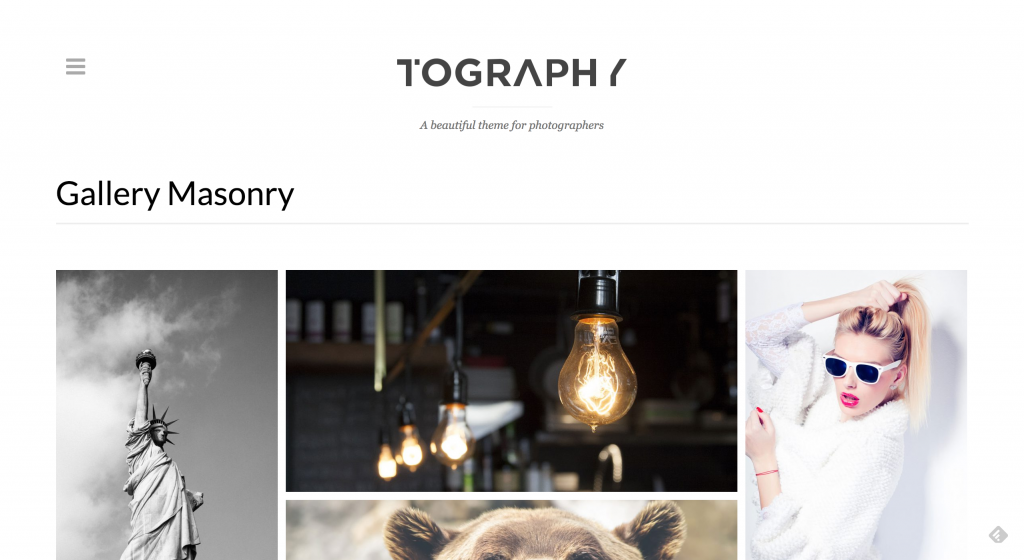 Now photographers can showcase their portfolios in a professional way by Tography theme. This beautifully designed exclusive theme is created by photographers. Your photos have never looked so good online with its retina ready on display and is SEO optimized. Two modern headers make it easy for you to work and to adjust the theme according to yourself by just one single click. It offers you to set your galleries to private, and thus you can directly contact your clients.
Jkreativ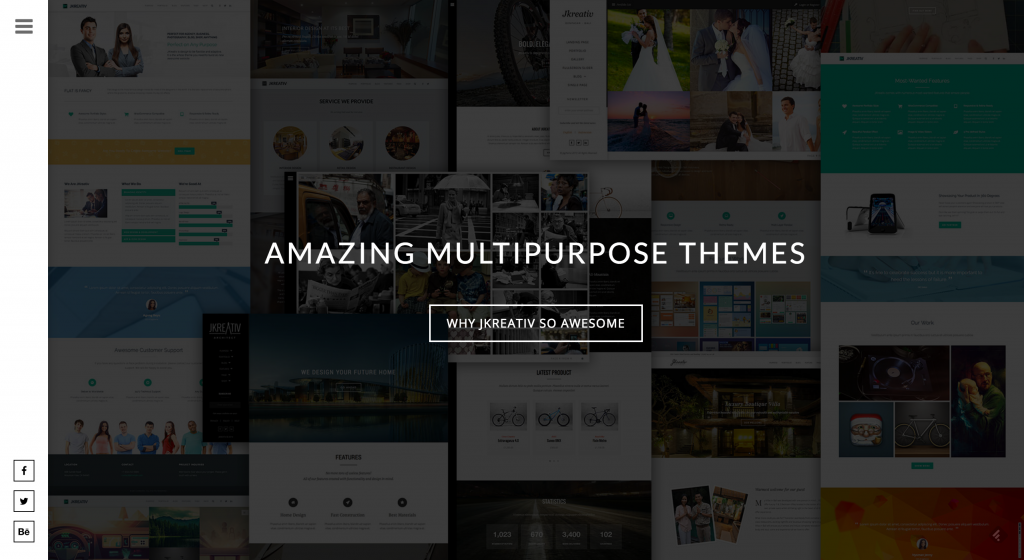 Jkreativ is the first unlimited layer of parallax theme with complete parallax control and its super-fast and smooth scrolling effect. The Woocommerce plugin allows making your theme elegant and commercializing your products and services in a professional way. It offers about 150= options for an easy styling with theme customizer i.e. you can change your theme color, logo, background and much more. It comes with numerous pleasing features that are slider revolution, a smooth 360 degree image slider, animations, musical backgrounds on every single page, parallax video background and completely responsive.
Oyster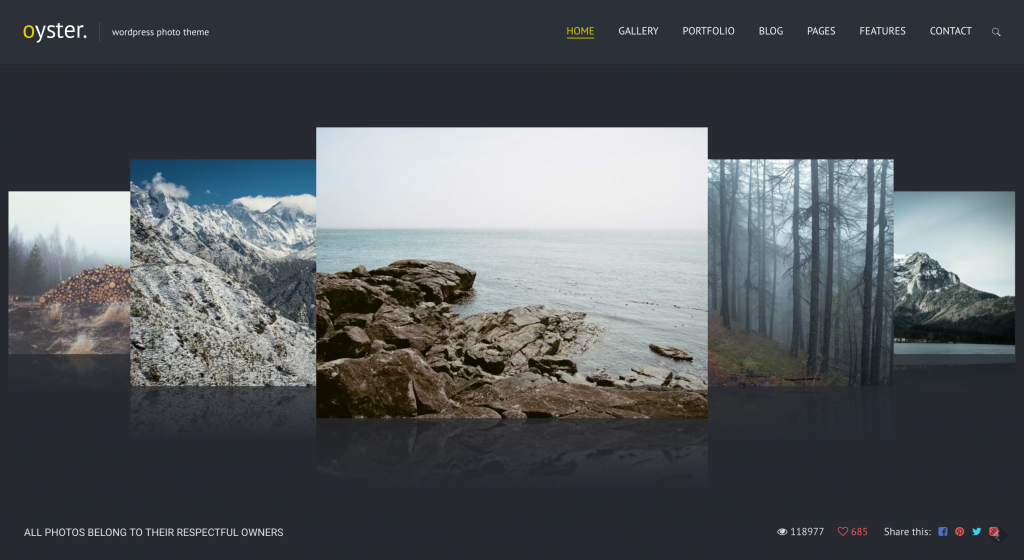 Oyster is a great opportunity for the photographers as it provides unlimited capabilities with a modern designed theme. This responsive theme gives you the maximum ability to personalize your theme in a way you like. It comes with light and dark skin and makes your artwork presentation amazing by its full screen design. You can easily set your phots in a well-organized and   eye-catching layout. The image flow gallery is the coolest feature thus giving a 3D effect to your images. No more need to get tired of clicking the load more buttons; this theme gives you a feature of auto load on full screen view of the page.
Inspiro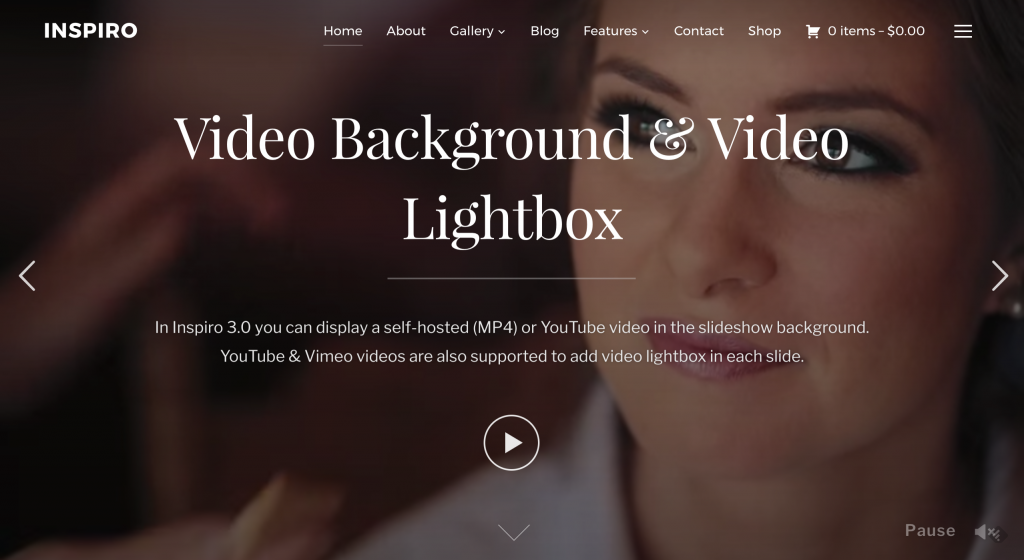 Inspiro is a beautifully modern designed WordPress theme used for multipurpose photography or business portofolio. It doesn't matter that you have knowledge about coding or not; this theme is easily managed and gives your web a new current look. This professional photo and video focused theme offers you various features including full screen slide show, gallery module or widgetized homepage. It presents you a full responsive layout which makes it easy to display even on your mobile devices. Instantly customize your theme and use multiple custom widgets on your homepage. 
Scent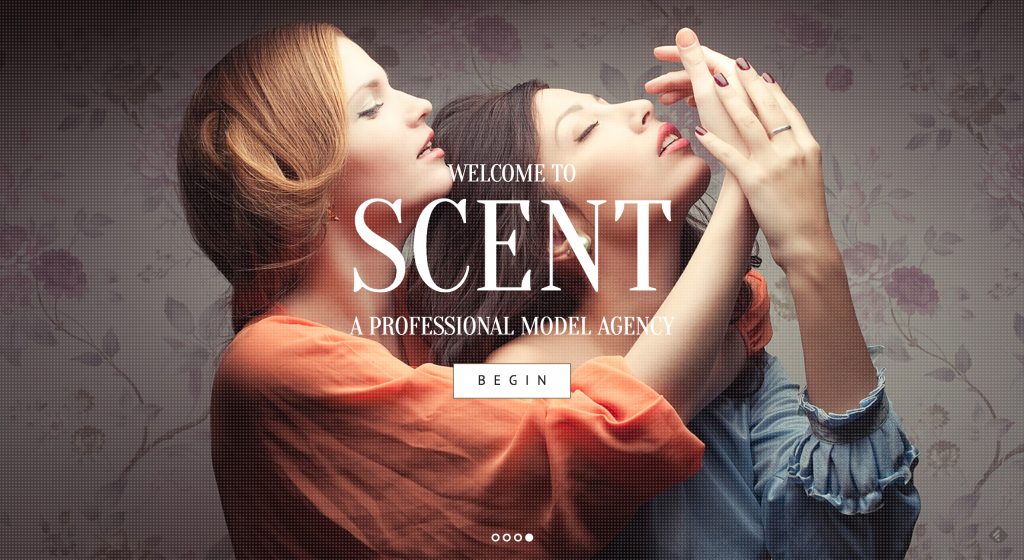 Scent is a fully responsive amazing theme with retina ready display for the photography and modeling industries. No coding skills are required and come with a visual composer page builder. The limitless fonts and unlimited colors make it a trendiest theme for your photography skills. The special content section for model galleries makes its perfect to promote your models. It consists of various plugins like WPML and Polyland to translate your website into other languages. The other outstanding feature is that it comes with a wow feature that makes your image look perfect on the screen devices.
Why Have a Photographer Website with Wordpress
Photography has become much famous art due to Instagram and Facebook. Nowadays, it is not difficult to share photos with your friends, family members, colleagues and loved ones. Advanced devices and smart phones are available at the market, which are equipped with high resolution cameras. Taking a photograph and sharing it with other individuals is no more a big deal. Photography should not be taken for granted. It is a beautiful art that must be appreciated. Photography has allowed us to capture a special moment at anytime and anywhere. Each one of us has access to smartphone, thanks to modern technology and these phones are incorporated with a camera. Now you can keep your memories forever. It is also possible to earn a good some of the money from photography, and this professional has been already adopted by several individuals.
By publishing your photographs on WordPress, you can become famous not only in your own country but all around the globe. However, it is crucial to choose the best WordPress theme for photography. If you are searching for a responsive, widgetized and easy to customize WordPress theme, then you are on the right website. Thousands of photography themes are available on internet free of cost, but they are not catchy. If you seriously take your photography, then you must choose a premium theme for your website. Before selecting a WordPress theme, few things must be kept in mind like online documentation, support, code quality and additional features.
Premium WordPress photography themes are the best if you do not want to waste your time in creating a site from scratch. These are ready to use themes, and you just need to incorporate them in WordPress. Now I am going to share the list of 20 best WordPress themes for photography. Each of these themes has attractive design, solid code and user-friendly interface. Choose any of these photography themes for sharing your photos worldwide. It is important to keep your requirements in mind when you select a WordPress theme. Let's have a look on these 20 photography themes for your WordPress website.